Decisive and Effective Representation
An Immigration and Criminal Defense Lawyer at Your Service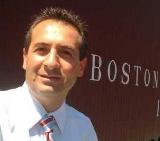 Attorney George Abi-Esber
Attorney George Abi-Esber earned his Bachelor of Arts in International Relations in 1991 from Boston University with high honors, magna cum laude.
A Doctorate of Law recipient from Suffolk University Law School, in 1997, with high honors, magna cum laude.
He was admitted to the Massachusetts Bar in 1997. His concentration is in trial litigation and criminal defense. Attorney Abi-Esber speaks several languages and has served on the boards of directors of several charitable, legal, and civil rights organizations in the Greater Boston area.
When it comes to immigration, as your immigration lawyer in Boston, Salem, or Lynn MA, or in any town in the Commonwealth of Massachusetts, we will address your immigration legal needs. If you need to find a Boston area immigration lawyer to handle your visa or your immigration issues with the INS or with USCIS, that is the United States Citizenship and Immigration Services, call us. If your petition for a visa on behalf of a relative, son, daughter, stepson, stepdaughter, father, mother, or parent was denied. We could represent you to appeal, reopen, or reconsider the decision. Our office is conveniently located right across from the Lynn City Hall with ample parking space and within a walking distance to public transportation lines.
That first encounter with the criminal justice system can be daunting for someone charged with a crime. His expectations, many times, are fraught with misconceptions and misinformation. The risks can be great irrespective of the alleged offense. Simple missteps in navigating the process can cause irreversible consequences that may affect one's professional prospects, community reputation, his path to citizenship, and most significantly his liberty.
Careful understanding of the proceedings is essential to achieving a level field and ultimately a fair outcome where the accused's rights are fully exercised.
You will find that your prime accuser is no less than the mighty State with her well-oiled machinery that begins with its law enforcement agencies and ends in the hands of its experienced corps of prosecutors: this is your opposition which is heeled in unmatchable resources in men, women, money and investigative powers.
On your first day in court, you stand facing that awesome power that has already charged you and is initiating the process to convict you and, if successful in her aims, to punish you. The prosecution has set her sight on you as the one on whom they want justice to be served.
To proceed alone is to enter the lion's den unprotected and unshielded. This is why you need a criminal defense attorney to stand between you and that exacting power of the state.
Behind that bar, the prosecutor will tend to the interests of the state; the judge, to the interests of a fair trial and an exact application of the law; and your lawyer, to you, your liberty, your good reputation, and your innocence. Behind that bar, that criminal defense lawyer is your only friend, only advocate, and best defense. Type immigration lawyer Lynn MA or Immigration Lawyer Salem MA or Attorney George Abi-Esber for your future search of this page.
Our services may be engaged from the time of incident (fight or accident), even before an arrest takes place or a warrant or summons are issued. We can be available to meet with you at home, at the scene, or at the police station. We could represent you at the clerk magistrate or initial bail hearing. At the arraignment, after a plea of not guilty is entered, we will fight for your immediate pretrial release with minimal restrictions on your liberty. A plea deal is not negotiated unless it is in your best interest. We will be your counsel at your probation violation hearing.